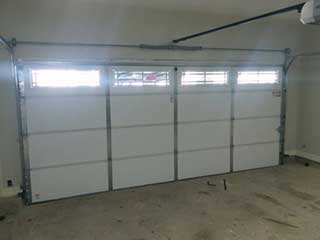 When there is a problem that restricts or impedes the garage door's movement, you've got quite a pickle. You don't want to use a garage door with broken springs like it's normal because it's not. Besides actually hurting you or falling down, you can cause more damage to other garage door parts if you try using it like that. To have the best solution, get local Colorado Springs garage door spring repair experts on the job. With same-day solutions provided every day, our technicians can help replace broken springs whenever they cause you trouble. Let the professionals handle the repairs to save money on more costly solutions down the line.
Why Did My Garage Door Spring Break?
To sum it up – it was time. Mostly, springs break on garage doors because they've reached the end of their capacity to sustain all that tension. Each and every time you open the garage door, the springs are in play, helping you lift it like it weighs nothing and lower it back down safely. All this work accumulates to gradual wear on the springs and their coils. And eventually, this will lead to a breakage or a weakening. Broken garage door springs essentially cut the strings on the door. With no tendons to help lift it, you'll find it heavier, or you'll find the garage door opener suddenly having to pull a lot of weight all on its own. Best to avoid this exacerbation of the problem as it can lead to more expensive repairs very quickly. Get broken springs replaced quickly to have everything back to normal again.
Broken Spring Repairs For Colorado Springs Garage Doors
With quick assistance for whenever problems crop up, you can get broken springs replaced at any point by the top experts in your area. Garage Door Repair Colorado Springs specializes in broken spring replacement, providing quick services with fast and affordable solutions everyday and weekend. Need some help with broken garage door springs? Call to get replacement done on the spot any day!