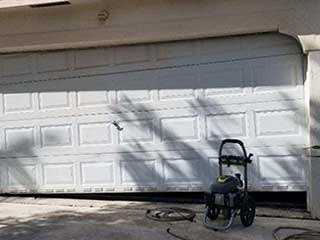 Should your garage door run into trouble of some kind, you'll want to get help for it right away. Most problems that affect the system make it difficult to continue using it. And that can mean having your car trapped inside the garage or outside of it. Either option isn't very appealing, right? Well, with help from Garage Door Repair Colorado Springs you'll have a quick fix for any stubborn issue. We replace broken springs on a same day service basis. The same goes for opener troubleshooting and other problems that may come up. With a nearby garage door repair service technician available every day, you always have an option when problems arise.
Get Garage Door Springs Replaced Quickly
No need to wait anymore after a spring broke on your garage door. We know how annoying it can be to have such a problem spoil your daily plans, and we want to help. You don't want to get stuck with the garage door in that shape and we want to get your day back on track as soon as possible. That's why we offer same day broken spring replacement for Colorado Springs area garage doors. With this type of problem, you need to let a professional handle the job. Broken spring replacement is something experienced experts can handle safely. So you should avoid taking risks on DIY, as you can get hurt quite seriously.
Need Opener Repairs?
Considering the fact that the garage door opener both powers and controls the movement of the system, it's responsible for quite a lot. And that means that when things break down, your opener can often be the cause. The motor gear can wear out or even break, and so can the opener chain or belt. Besides hardware parts, opener logic boards can also malfunction, and wiring can become frayed or loose. Regardless of the reason, our Colorado Springs garage door opener repairmen can troubleshoot and fix any problem that you have. We offer quick opener repairs to all the nearest areas to ensure customers can get their automatic garage doors back on track in no time.
Garage Door Off Track Misalignment
Speaking of which, the tracks that guide the rollers and panels have a very important role. That means that when the garage door tracks become blocked or dented, you can experience some issues. If the door gets off track or a garage door roller pops out, something is keeping the panels from moving all the way up. With quick track repairs provided every day of the week, the experts at Garage Door Repair Colorado Springs can help you whenever such problems crop up. We realign tracks and repair bending to ensure smooth and straight movement of the door at all times.
Fastest Garage Door Repair Services in Colorado Springs
When it comes to speed, we put a huge emphasis on delivering the service our clients need when they need it. Got a problem with the garage door? Don't hesitate and reach out to our professionals. Get help today from a Colorado Springs garage door repairman near your area and get rid of any plaguing issue or unexpected problem. From spring replacement to track repairs and troubleshooting for openers, we offer the complete service package for emergency garage door repairs. Call now for same-day service!