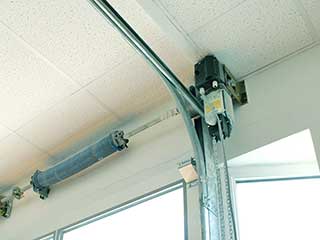 Did you know that the springs do the heavy lifting every time you open your garage door? This mechanism makes use of the spring's ability to generate energy under tension, which in turn counterbalances the door's weight, making easy work of an otherwise difficult job. Automatic or manually opened, it's the springs that do all of the donkey work.
Workings Of The Garage Door Spring
The two most commonly used types of garage door springs are torsion and extension springs. The former is found at the top of the door and mounted parallel to the opening. These springs are designed to twist and unwind during operation. Due to the width of the mechanism, torsion springs are generally considered to be more hardwearing and stable. The latter is the extension spring. These are installed in pairs, and sit parallel to the tracking on either side of the door. Expanding and contracting with use, the extension spring is considered more dangerous than the torsion spring, which is why they are generally fit with safety cables.
DIY Dangers
Make no mistake, attempting to adjust or repair garage door springs can be life-threatening for the untrained. What's more, it can result in serious injury. There is an incredible amount of tension stored in the coiled spring and when a break occurs, this stored tension is released in a dangerous and dramatic manner which can lead to personal physical injury.
Leave It To The Experts
Regardless of whether you need an emergency call-out for a broken spring or are looking to use our expert service for general maintenance needs, the local team of professionals at Garage Door Repair Colorado Springs is here for you. Contact us anytime for all your garage door problems.
We also offer:

Noisy Doors Silenced

LiftMaster Garage Door Openers

Roll up Garage Door Maintenance

Garage Door Extension Spring Repair